Enough looking at it, time to do it. With resorts closed but winter still hanging on it was time for the goats to hit the path and sniff out some delicious truffle pow deep in the gullies of Mt. Weird. Armed with good old fashion raisons and peanuts as well as a Gnu GORP, Temple Cummins and Tim Stanford went on the pow hunt just a pin drop from the Gnu factory on the Olympic Peninsula.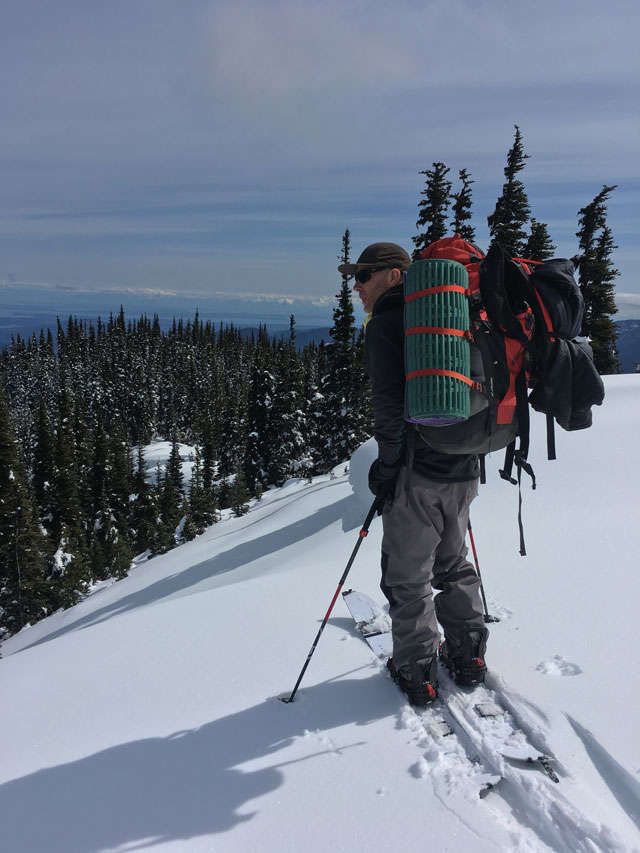 Day one was a five hour approach to the overnight hut. Every 30 minutes or so Stanny waited patiently for Temple to catch up… or maybe it was the other way around. Whoever was faster doesn't matter, the point is five hours of peaceful solitude away from phones, emails, Fortnite, TikTok, MySpace and Friendster was very nice. Once in the hut they played cribbage to a flickering candle and sung songs from the old country.
"I slept like a hot dog on rotisserie." ~Tim Stanford
At first light the intrepid duo surged in to action and set out for the summit, which was quick work compared to the previous day. Once on the summit of Mt. Weird they planted the Gnu flag, looked wistfully towards the shire and proceeded to shred. The snow was good dude.
After some nice turns and magical moments they got the big boy packs on and started to work their way back to the stable. Inevitably finding the always present "single track through the trees sketch zone" which was made all the better by quickly cooling temperatures and burnt legs.
It was a success! But what exactly is success? Here it was a mission with a good friend in to some remote terrain with great exercise and that truly relaxed feeling that you only get when you're fully unplugged and fully spent. And it was made possible in part by the Gnu GORP.
"Saw Temple's track for 3 weeks from my couch." ~Tim Stanford