FREESTYLE / ALL MOUNTAIN ASYM TWIN
What are B-Grades?
Bases come in random assorted colorways.
From design to performance our riders had a heavy hand in this one. Asymmetry, slightly wider widths that rail and float combined with C2 Hybrid contours that pop, slide, carve and float. All laminated into an eco-minded construction that is built to blast and last. It's quite possibly the best snowboard we have ever made!
A board for riders by riders
Unlock radical freestyle everywhere
Intuitive Asym advantage maximizes performance
ART: SEAN GENOVES @SEANGENOVESE
Featured Binding - BMBW Axtion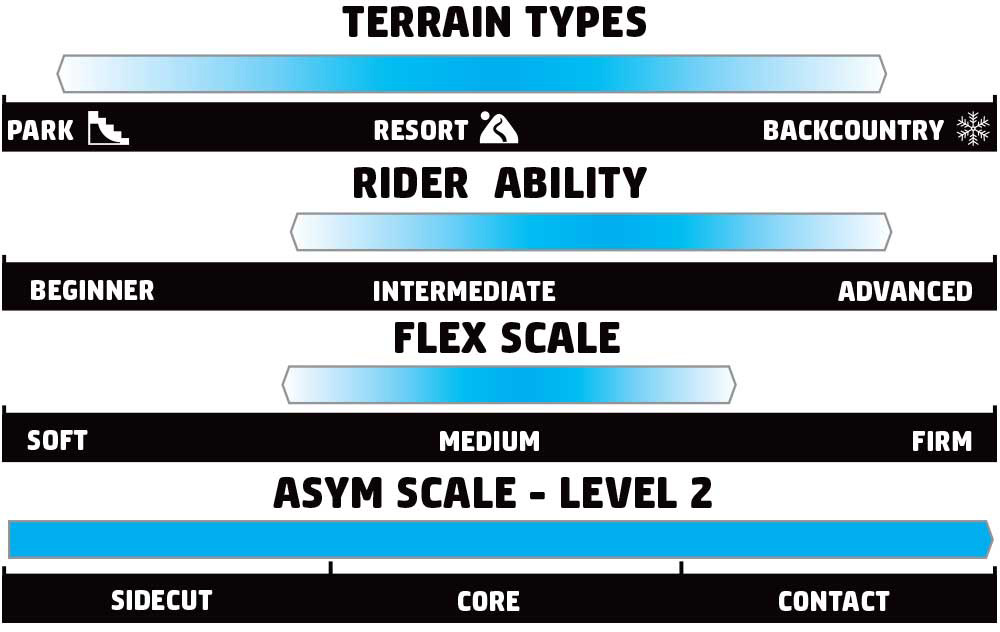 Riders Choice Specs
Size

(cm)

Contact
Length

(cm)

Side
Cut

(m)

Nose / Tail
Width

(cm)

Waist
Width

(cm)

Stance


Min-Max / Set Back

Flex


10 = Firm

Weight
Range

(lbs)

151.5
113
7.9 / 8.2
29.2 / 29.2
25.1
20"-26"/ 0"
5.5
90-180
154.5
116
7.7 / 8.1
29.3 / 29.3
25.2
20.25"-25"/ 0"
5.5
120-200
155W
116
7.7 / 8.1
30.7 / 30.7
26.5
20.25"-25" / 0"
7
130-210
157.5
119
7.8 / 8.2
29.9 / 29.9
25.5
20.25"-25" / 0"
6
130-210
158W
119
7.8 / 8.2
31.2 / 31.2
26.8
20.25"-25" / 0"
6
130-220
161.5
122
8 / 8.4
30.2 / 30.2
25.8
20.25"-25" / 0"
7
140-240
162W
122
8 / 8.4
31.3 / 31.3
26.8
20.25"-25" / 0"
6.5
140-250
166W
124
8.1 / 8.5
31.3 / 31.3
26.8
20.25"-25" / 0"
7
150-280